John
I grew up in the small market town of Sudbury in Suffolk and had the good fortune to live in a Georgian Rectory with lots of space. As the town was close to the countryside, both gave me plenty of room to breathe. Music and sport were important to me from an early age. I found music of all genres in local shops, library, the wireless, my transistor radio and my siblings' record collections – rock, pop, classical, blues, soul, jazz and folk, it all went in and I began playing guitar. On frequent trips to France in the 70s I came across French chanson through Maxime le Forestier and saw my first latin show, from the Chilean group Quilapayun. In 1977 I stumbled on Bob Marley performing Exodus on Top of the Pops and reggae entered my consciousness.  I promoted my first show at school whilst in the 6th Form, a benefit for Amnesty International, with local rock band Trespass.
After leaving school I spent a year working on farms in the UK and France and then went to University in Bristol. In that year Aswad's album Showcase gave me further inspiration. On arriving in Bristol in 1980 my experience and understanding of reggae widened rapidly – Dennis Brown, Jah Shaka, Sugar Minott, Skatalites, Misty In Roots, Gregory Isaacs, Studio 1 and loads more, it just went on and on and felt very natural. The Beat, The Specials, The Undertones, Durutti Column, The Jam, Echo and the Bunnymen amongst others were all on my radar alongside Neil Young, Van Morrison, Gill Scott Heron, James Brown and many others.
In Bristol I continued to organize benefits for Amnesty and also a show to raise money for Helen Bamber's Medical Foundation Against Torture. These were first at the University and then venues such as Trinity Hall – promotions happened frequently with the likes of Black Roots, Pig Bag, Shriek Back and a young reggae band called Restriction. During my first winter in Bristol the Willgress family introduced me to Basil Anderson who played keyboards with the band, they had just started out and we struck up a friendship. In the months that followed I began finding shows elsewhere and in time we were gigging frequently up and down the UK and finally in France. Operating out of a small rehearsal room (a friend's spare bedroom) in Gwyn Street, St Pauls, Restriction was a unique blend of talented individuals and the band grew into a formidable musical force.
Whilst recording at the Mad Professor's Ariwa Studios in London I was blown away with Vin Gordon's trombone playing and decided to give the instrument a go myself. Vin gave me some lessons to start me off and a few months later I joined Charlie on stage in the horn section.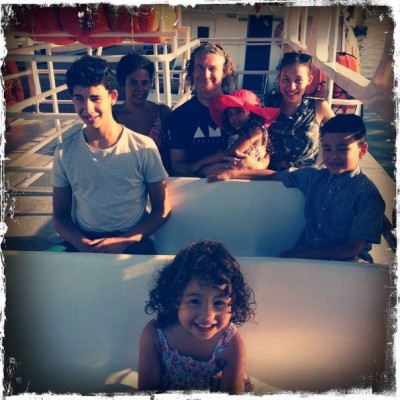 Restriction began to play in Paris 1985-86 and it was at the Philone club that I came across Senegalese and other West African music. Restriction ceased to be after our last show there and so I spent more time in France, doing research for the Channel 4 Programme Ebony on African and Caribbean black experience in Paris which opened interesting doors for me. Through this work I discovered Salif Keita, Ismael Lo and Super Diamono de Dakar. I went on to tour manage Super Diamono in Europe (mightily inspired by the likes of Moussa Ngom, Abou Mbake and Lamine Faye) and this in turn brought me into contact anew with the WOMAD Festival who were keen on booking them. The delivery of Super Diamano was my first task and on the completion of that mission Thomas Brooman asked me to join the WOMAD team with a specific aim of dovetailing with Paris and Francophone Africa, so I entered a cramped office in the attic room above a clothes shop on Park Street, Bristol, with a trailblazing work force pioneering the global music festival and worked on some truly exiting projects. One of the first tours we arranged was for Remmy Ongala and Super Matimila from Tanzania and from then on there was a constant flow of ideas and creativity leading to debut UK shows. Farafina from Burkina Faso, Salif Keita from Mali, Martin St Pierre, Argentina, The Cambodian National Dance Company etc.
In 1986 WOMAD sent me to represent the company at a party in London and it was here I met a young Toumani Diabate (who had been performing with a traditional troupe). We immediately hit it off and the next day we were on a train to Bristol. That night he gave his first solo performance at an impromptu show. I agreed to set up a tour for the following year and thus the first chapter was created for Toumani as an individual kora artist. We worked on several collaborative projects during that time and I also had the privilege to meet and go on to work with his great uncle Amadou Bansang Jobarteh, we toured across the world together.
One night chatting in Thomas's kitchen we came up with the idea of recording WOMAD artists in the newly completed Real World Studios, this initiative finally became Real World Records and Womad Records; a flurry of recording activity followed. The first session featured the Drummers of Burundi and I will never forget engineer Dave Bottrill jumping with delight as he punched in the tracks on the desk one by way, thus steadily unleashing the thunderous sound of the Drummers pounding away downstairs.
I left WOMAD in 1990, though continued to work for them as a freelance tour manager. I spent a time living in Dakar, Senegal, which was a wonderful experience, returning to Europe for tours. Whilst in Dakar, I received a call in June 1991 from Thomas Brooman as he needed a tour manager the following week for Colombian singer Totó la Momposina, who was about to embark on a 3 month world tour. He couldn't find a Spanish speaker but had just discovered she spoke French. A week later I met in a group of Colombians at Heathrow and off we went. Following the tour I was persuaded to visit them in Colombia and in early 1992 landed in Cartagena de Indias on the Caribbean Coast for a one month stay …. which lasted a rather longer two years. Cartagena felt very similar to the Africa I had just left and it struck me deeply to see a port the slaves arrived at, having recently been close to Goree, from where slaves embarked and, in between those places, I had passed through Bristol touching three points of the slave trade. To this day I continue to follow the musical links between these three continents and that triangle, constantly inspired by the connections.
From Colombia I began managing Totó's career, surprised to discover that such a talent had never released an album in her own country, and that there was little demand for her work. We set out to develop the music and build her profile, producing four albums over the next 17 years. She became an established name reaching legendary status and finally receiving recognition in Colombia.
Returning to the UK in 1994 I also continued to freelance a bit in tour management working with Ruben Gonzalez, La Familia Valera Miranda, La Vieja Trova Santiaguerra and Eliades Ochoa. In 1995 I met up in Paris with Congolese guitarist Papa Noel and we began working on a series of sessions together exploring an Afro-Latin panorama, with Colombians and Cubans, and finally we created a duo between Papa Noel and the singer-songwriter Adan Pedroso which became the Mosala Makasi album in 1999.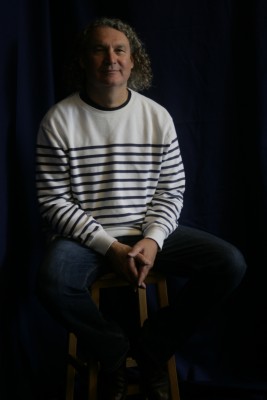 Totó and I were on a trip to Cuba in 1997 to meet with Celina Gonzalez to prepare a show we were to do later that year in London at a Colombian festival we were organizing with the Barbican when we came across a young son band called Asere. Delighted by their fresh songwriting and soulful groove we took them under our wing immediately, five albums and many tours followed including a collaborative project with Billy Cobham.
Two nice WOMEX moments followed – in 2006 with Totó winning the Lifetime Achievement Award and Colombian band Cimarron performing a showcase in 2008, which blew the roof off and introduced this dynamite act from Los Llanos to international touring.
The latest project is a harp-kora collaboration with Catrin Finch and Seckou Keita. I began working with Seckou in 2011 and it has been a pleasure working with Manding and Wolof traditions again. It has been so refreshing returning to musical styles I started out with in the 80s, which brings me to AMJ…
In 2009 I felt the need to re-connect with reggae so I hooked up with Mark Spence and Andy Clarke to propose a new project. We have been recording ever since. Reggae is the cradle, dub is the medium and we are free to explore. It has been a fascinating journey so far and we're only just warming up.