Mark
I was born in Bristol and grew up in St Paul's. As a teenager living there in the late 70's early 80's I was submerged in a West Indian Community, rich in culture, vibrant in music, and of course good Jamaican food.  Jamaica, the birthplace of my parents who came to the UK in the late 1950's. I grew up listening to family stories about Jamaica based around my heritage and at the same time listening to the sounds on the streets which, for me at that time, was a mixture of soul, funk and reggae music.
At that time Dockland Settlement in St Paul's was the local Youth Centre, a place for young people to get together listen to music, play table tennis, five a side football down stairs on the court or just hang out with friends eating two pence Jammy Dodgers and drinking orange squash from the Tuck Shop.
I would go out with my friends on the weekend to listen to local Sound Systems in the area. I even had a Sound System called Sir High Tone, with Mike, Edley and Lenard we had some great times playing house parties in the local area and Sound clash sessions …. really great memories.
Throughout my School years, I attended Bishopston Secondary School on Bishop Road and I can remember waiting for the bell to sound for home time. I would run out the school gates down the Gloucester Road to Mickleburgh's, the local music shop on Stokes Croft in Bristol, they had all sorts of instruments in the shop window, bass guitars, acoustic guitars, pianos and percussion instruments, you name it they had. I would stand at the shop window staring at the bass guitars hoping I would be able to get one for myself someday.
Finally with the money I had saved up from my first part time job, including some money from my parents, I went out and bought my very first bass guitar it was a Cimar Precision Fender Copy made by Ibanez, I've toured up and down the country and abroad with it over the past years and I still use it to day.
I grew up in the Church surrounded by Gospel music and that's where I first experienced playing live music.
Some of my favourite artists were people like Sly and Robbie, Aswad, Denis Brown, Bob Marley, Black Uhuru, Al Campbell, Steel Pulse and many more. These artists were an inspiration to me. I would spend hours just listening to these musicians trying to copy their style and technique of playing.
At the age of 19, I Came straight out of College after studying a motor vehicle course and decided I didn't want to be a Mechanic, my passion was always about the music so I went for an audition to join the Arts Opportunity Theatre Company based in Bristol, Dockland Settlement. At that time they were looking for a bass player to join the Zion Band for a new Musical Production called Freedom City Directed by Reynold Duncan and Yvonne Doucheman. That's when I first started working with Andrew Clarke the drummer in the Zion Band, although I had known Andrew from when we were kids through the local church our Parents attended.
I Joined Freedom City in 1982 with a cast of 60 young people made up of singers, dancers, actors, musicians and sound engineers, my first live performance was at the Colston Hall in Bristol – an experience I will always remember, nervous tension coupled with excitement. That was my first experience of the thing they call stage fright and since that day I've never looked back.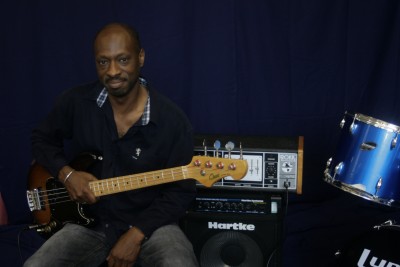 I remained with the production for two years touring the length and breadth of the UK including various tours abroad and at the end of that period I, and musicians I had worked with, had to leave the Company to make way for a new production called Black And White in Colour.
The band decided to continue on our own taking a new name RESTRICTION. That's when I first met John Hollis, after we had been going for a year or so, John joined the band arranging gigs and managing the day to day running of the group. We became a very tight Reggae band performing all over the UK and abroad. For me personally the people in that group become like a second family. We had been travelling and touring together for so many years from the Theatre Company all the way through to Restriction.
Restriction came to an end in 1986 after our final shows in Paris. I continued to play music on the local music scene in Bristol, always meeting new people and making new friends in the musical world, something I value highly. I kept in touch with various members of Restriction from time to time until in 2009 Andrew Clarke, John Hollis and myself decided to get together to create a new operation called the AMJ Collective. Taking the best of our own individual talents and abilities to form a new group dedicated to working with musicians and vocal artists from all backgrounds who share a common purpose, our passion for music.
For me personally this is a unique opportunity to collaborate with artists from the UK and abroad covering various styles of music and I have been very fortunate to meet some wonderful people on this journey.
At this moment in time I feel blessed having shared this experience, long may it continue.
Wishing you Peace
Mark