Andy
Born in October 1964 in the community of St Paul's, Bristol, England. My parents came from Jamaica during the 1950s and it was a hard time for them at first. My dad arrived in Southampton on the SS Irpinia and went to work as a carpenter in Bristol. He saved enough money to send for my mum one year later.
The story starts when I was five years old …. I received a small toy metal drum for Christmas. Later I remember my mum washing clothes and hanging them on the line, she would put the big wash pan out in the back yard to dry out in the sun. I would break off some branches from the tree which hung over our garden, pull off the leaves, then break them into two drumsticks and beat the back of the wash pan as if I was in a band.
My brother joined the scouts in the 70s. He brought home a marching drum to practice on and when he went out to school I would go into his bedroom to have a play on the drum – I would make so much noise my mum would shout up to me to stop and say I should be getting ready for school.
In 1976 I started at Lockleaze school, this was a whole new experience for me, I did not know any of the kids as I was separated from my friends when I left St Barnabus infant school in St Paul's. I remember attending a music class for the first time, the teacher asked each child what instruments they would like to play. When he got to me, I said I would like to play the drums, he then pointed at me to follow him, led me to a door, opened it and I looked inside …. I was so happy to see a royal blue drum set.
I went on to play the drums in school assemblies, the Christmas pantomime, and with brass bands and wind instruments.
During the fourth year of school, I received a grant of £150 pounds from the Prince's Trust. I went out and bought my first Hayman gold drum set.
I auditioned for Black Roots but they said I was too young. In 1981 I left school to join the Arts Opportunity Theatre Company managed by Reynold Duncan and Yvonne Deutschman. It was based at the Dockland Settlement in St Paul's, Bristol. This is where Mark Spence and myself joined forces, with Mark on bass.
The production was successful and travelled through England and toured Germany. I played on the drums, and also played one of the characters called 'Bongo' in the Zion Band – which you can listen to on Bristol Reggae Explosion 2.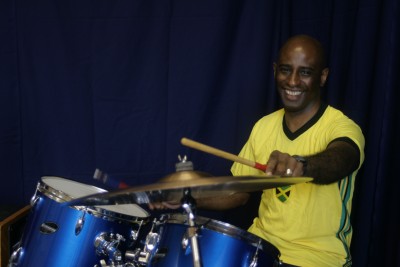 This is where the Restriction reggae band was born in 1982; we were successful and travelled all over the country and into France, with John Hollis as manager. The band would practice three days a week, everyone had good qualities, we supported bands like Eek-A-Mouse on two occasions when he came to Bristol, Sugar Minott in Paris, Misty and Roots in Leeds, and also went on stage after Aswad at Notting Hill Carnival, and Pig Bag at Romeo and Juliets in Bristol. During this time Restriction was on an even par with the likes of Black Roots and Talisman.
Restriction produced a 12" single called  'Action – Four Point Plan' with the Mad Professor, which did not sell too well in the 80s, maybe we were ahead of our time. Four Point Plan was re-released on the Bristol Reggae Explosion.