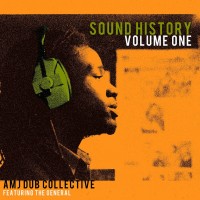 Sound History Volume 1
Featuring The General.
12″ Vinyl and download
In Collaboration with Bristol Archive Records/Sugarshack: www.sugarshackrecords.co.uk
For our first venture into reggae, Sugar Shack have teamed up with a new group, AMJ Dub Collective. The group's name may be new to people, but their part in Bristol's musical heritage goes back more than thirty years. Mark Spence and Andy Clarke, the band's rhythm section are graduates of Zion Band from which they progressed to legendary Bristol band Restriction, (music from both bands can be found on our sister label Bristol Archive Records). The third member of the trio is producer John Hollis, another Restriction graduate and for their first release they've called on two other former band mates Eric 'The General' McCarthy on MC duties and Bristol legend Rob Smith for a brace of mixes.
1. Sound History 1
2. Level Vibes
3. Sound History 2
4. Level Vibes Dub
The trio's aim was to recreate the classic reggae sound that they grew up with, yet they aren't afraid to bring things up to date where appropriate as well as bringing in some guest musicians for an added Latin twist that harks back to Jamaican music's origins and close links with Cuba and the wider Caribbean.
The idea for these tracks came from Mark Spence who felt it was long overdue to document in song the City's rich heritage of sound systems, their selectors, MCs and the posses who supported them, a tribute to the reggae scene that nurtured and inspired the members of AMJ Dub Collective as well as countless others over the decades.
The choice of 'The General' on microphone duties was obvious as not only had he taken that role in Restriction, but was also an MC on legendary Bristol sound system Enterprise. His delivery has lost nothing in the last thirty years and it's great to be able to hear him again.
Rob Smith needs no introduction and although his career has covered the "Bristol Sound", drum and bass and dub step, he has never drifted far from his reggae roots, having been a founder member of both Zion Band and Restriction, it's only natural that his mixing talents were called upon and he certainly delivers.
This is reggae for the twenty first century, yet reggae built on years of practice and skill, music played on real instruments by real musicians and not something programmed on a PC using the same tired digital effects, "Sound History" will be released as a limited edition 4 track 12" EP complete with picture sleeve, if only all new reggae was made with such care and attention.