AMJ Collective joined forces with WOMAD FESTIVAL and the Malmesbury Schools Project, an annual artist residency that sees primary and secondary school students working with artists and musicians from around the world. The project included a 1-week tour of local schools, delivering an outreach performance in the surrounding villages, with lots of participation from students and teachers alike.
We were lucky to have a great group of 100 extremely talented students who made the task of preparing for the opening slot at the festival on Thursday evening that little bit easier. The show consisted of dancers; vocalists, percussionists, several guitarists, bass players and a full horn section. Half the students on-stage were from Malmesbury School with another 50 recruited from the morning sessions with the five local primary schools; Malmesbury, Brinkworth, Earl Danby, Minety, Lea & Garsdon and Crudwell.
Following the success of the opening night – AMJ Collective conducted a workshop in the 'All Singing – All Dancing' tent on Friday – which again, was a great success. It was a huge honour for us to be invited to teach and perform at one of the longest established cultural events in the world, clocking up more than 30 years in the game. Here's to 30 more…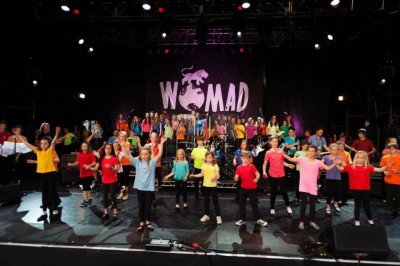 Previous years artists include; Pee Wee Ellis, Colores de mi Tierra, Siyaya and The Dhol Foundation to name but a few.
"AMJ Collective provided a slick and solid reggae afro framework, within which the young musicians and singers expressed themselves – while the dancers hardly stopped moving throughout" – Western Daily Press "