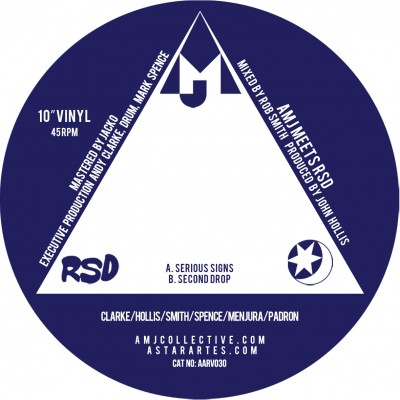 AMJ-RSD new 10″ vinyl release out October 12th.
A. SERIOUS SIGNS
B. SECOND DROP
Mixed by Rob Smith
Produced by John Hollis
Masterful work from Rob Smith and two more corkers from the AMJ treasure trove ….
The deep and heavy Serious Signs features soulful performances by Seckou Keita on kora,
Michel 'Pata' Salazar on keyboards, Camilo Menjura on guitar and Michel Padron on trumpet.
Feel the ground move and your spirit rise!
The B is Second Drop, a fresh reworking of the first AMJ-RSD single Depth Drop, solid groove
graced with fine guitar work from Camilo Menjura and horns from Michel Padron.
"An exquisite blend of Spanish guitar, West African Kora and Jamaican dub music. AMJ Meets RSD is progressive, enchanting and melodious – a breath of fresh air in an otherwise crowded space". Afrojamm, UK
AARV030
Astar Artes Recordings